Corso Vittorio Emanuele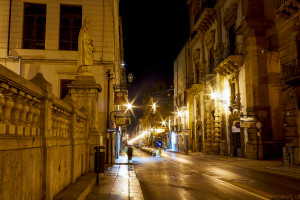 In the past it was known as Cassaro, corso Vittorio Emanuele is the oldest street of the city of Palermo.
It was Phoenicians who traced the road that divided the city in two parts and connected the old port to the necropolis that was out Palermo.
Arabs made corso Vittorio Emanuele become the main street from which branched a lot of alleys typical of Arab town planning. The old name by which corso Vittorio Emanuele is known has an Arab origin. In fact, the word Cassaro means the fortified because this area looked like that during Arab domination.
Substantial changes have been made during the second half of 16th century, when Palermo was the capital of Spanish viceroyalty.
The street was extended and in the end it was opened to the sea through the construction of Porta Felice.  
Corso Vittorio Emanuele is still one of the main streets of the city. A lot of interesting places overlook it. Among the most outstanding there are Cathedral, Norman Palace, Porta Nuova, Porta Felice, churches and old buildings of the highest artistic and historic value.
Vittorio flat of Palermo Al Centro overlooks corso Vittorio Emanuele.
Corso Vittorio Emanuele is only 800 metres away from Fiume flat of Palermo Al Centro.