Rail Station Palermo Centrale
Rail Station Palermo Centrale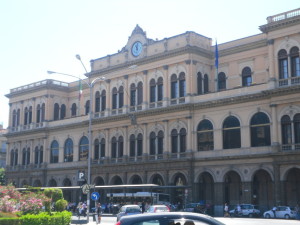 At Stazione Centrale of Palermo arrive a lot of city buses and is the main railway stop of the city. It lies in piazza Giulio Cesare at the very heart of the city.  
The central station of Palermo was projected by architect Di Giovanni and has been opened in 1886. It is characterized by a Renaissance Revival style profile. In some rooms there are painted decorations conceived by the painter Rocco Lentini.
Stazione Centrale is only 300 metres away from Fiume flat of Palermo Al Centro.
From Vittorio flat of Palermo Al Centro is only 1 kilometre away.